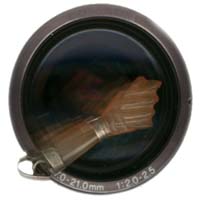 As this is our first digital photo digest, it covers all previous period. We couldn't lay our hands on all new cameras and technologies but despite this we tried to gather all information from manufacturers' web sites as well as gossips from other WWW places. All this resulted in a new Digital Photo Digest that will give you an idea about the newly opened theme.
Absolute heavyweight
High life chronicles.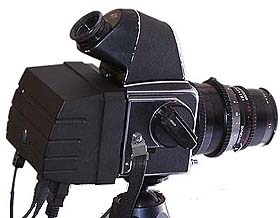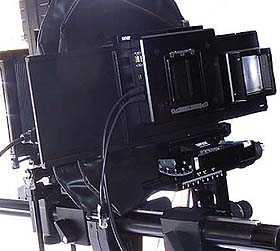 A seminar devoted to the SINAR Company technologies took place on the 10th and 11th of October. One of the company chiefs Daniel Denzinger presented a new Sinarback. It can be used not only with SINAR's own products, but also with the majority of medium format cameras like Hasselblad, Mamiya, Fuji, Rollei, Contax and Zenza Bronica. 3072x2048 pixel matrix is not so astounding, but thermoelectrical matrix cooling and dual-sized piezoelectrical matrix shifting provide the highest quality. And though matrix itself is much alike cheap camera matrices, 4 frame shooting with 1 pixel shifting give true 3072x2048 resolution for each color, not interpolated. If you add a Macroscan adapter to this back, matrix will go in the frame format with its original height and width, and with four shots you'll get a picture with resolution up to 20 million pixels. If we don't need color interpolation as well, then camera will take 4 shots in every of 4 positions, i.e. 16 shots for one frame. Moving camera in the focal plane has an advantage over moving the camera itself, because you won't need to worry about distortion corrections when combining shots together. For connections with the computer a fiber-optic cable is used. So it turns out to be an ideal studio camera. One back costs about $20000, and you've got to have studio cameras already "installed" as well. A company representative said that on the West changing from films to this back compensates in about two weeks.
And now let's observe not so expensive, but not cheap cameras with changeable optics as well. Here's the whole line of Nikon optics cameras and long-awaited relatively cheap ($3000) Canon optics camera. Until this moment only Kodak produced cameras for Canon optics (DCS 560, DCS 520) and they costed sometimes more than those backs from SINAR.
All "superlative" degrees in this digest are not authors' opinions, but show advertising eloquence of manufacturers'. We haven't compared cameras with each other, but tried to give reader an idea about all this.
Heavyweight
Nikon D1. Coming up to Perfect...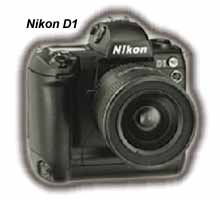 This 2.74 megapixel camera with 2000x1312 pixel frame size is much alike Nikon F5 and F100 35 mm of SLR series.

It uses changeable optics - all standard Nikon gamma. Focal evaluative coefficient from standard 35 mm camera to digital is 1.5X. Unlike it's competitors it uses a special ASIC system with outstanding shooting rate - 4.5 frames/sec in up to 21 frame series. Exposition and white balance settings can be changed from fully automatical to fully manual. All automatical functions including flash operations have the highest reliability. There's also a function for getting high quality monochrome images. Autofocusing is realized from 5 sensors, including famous AF, AF-I, AF-S functions of Nikkor lens. Fully manual focusing is also possible. Sensitivity in ISO equivalent is 200, 400, 800 and 1600, and there are 3200 and 6400 user settings as well. Exposure changes from 1/16000 seconds to 30 seconds. Camera supports TTL 3D Matrix automatics with built-in/external flashes and gives 1/500 seconds synchronization.

All data is written on the Compact Flash™ Card (Type I and II). Camera can save RGB and TIFF files up to 15 MBytes in size with 16-bit color depth per channel. Connects to computer via IEEE 1394.
"Black Pearl" from FujiFilm in Nikkor mount.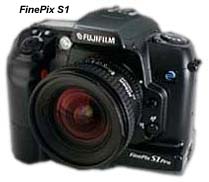 3.4 megapixel digital camera FujiFilm FinePix S1 Pro with interpolated frame size of 3040 x 2016 pixels with

changeable optics for standard Nikon bayonet resembles good reflector camera of SLR type. Focal evaluative coefficient from standard 35 mm camera to digital is 1.5X. Camera has high sensitivity in ISO equivalent - 320, 400, 800 and 1600. Serial shooting rate is 1.5 frame per second in 5 frame series with maximum resolution. It also has all standard advantages of a professional camera - different TTL gauge "intellectual" autofocus, etc.

Images can be written on two types of storage devices - SmartMedia and CompactFlash, including IBM 340 MBytes MicroDrive. Connects to computer via USB.
Last Canon novelty - D-30. Looking forward!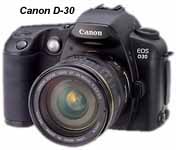 A few months passed since the announce of Canon's new 3.25 megapixel camera for Canon EF lens series

with changeable optics (2160x1440 pixels) - D30. But it still can hardly be bought even in european online shops. So what's the miracle about this cam that everybody await it? 12-bit per channel, full compatibility with all Canon lens line, own focal evaluative coefficient from standard 35 mm camera to digital of 1.6X. All advantages of Canon EOS series autofocusing cameras: One-shot, AI Servo, AI Focus, manual focusing, 3-point focusing, three type gauge typical for TTL cameras, exposures of 1/4000 - 30 seconds, 3 frame per second with maximum resolution shooting rate with up to 8 frame in a serie. Supports TTL automatics with built-in/external flashes and synchronization of up to 1/200 seconds. Sensitivity in ISO equivalent - 100-1600.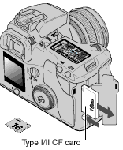 Data is written on CompactFlash card, Type I or II in JPEG and Canon RAW formats. Connects to computer via USB.
Minolta surprised the world again - Dimage RD 3000.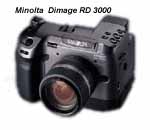 Minolta company decided to surprise the world with new Dimage RD 3000 camera that has uncounted "intellectual" user functions, wide line of Maxxum accessories and V-series optics as well as compact ergonomical design along with reliable case. Just everything that can be used in economics and industry. Dimage RD 3000 provides high quality image with the help of Minolta V optics, unique 2.7 megapixel matrix that has double CCD image sensor and noise reduction systems. Camera has 2" color TFT LCD monitor. It's very compact (in digital SLR series) and has comfortable design. Supports rapid shooting - 1.5 fps with up to 5 frames in a serie with full 2.7 megapixel resolution (1984x1360). White balance is automatic, manual and custom that represents object's color temperature very correctly.

Changeable optics - all Minolta line.

Images are written on CompactFlash I and II (IBM Microdrive 340 MBytes/170 MBytes). Using IBM Microdrive (340 MBytes) you can write up to 44 uncompressed images. Connects to computer via SCSI-2.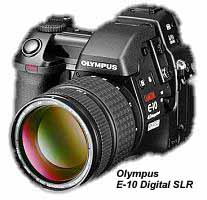 At last we can look at the new Olympus E-10 Digital SLR prototype - another reason for the manufacturer to be pride. True 4 megapixel matrix (2240 x 1680 resolution), 4X zoom 35-140 mm, unique SLR optical ray dividing system for a real preview on LCD monitor, flexible exposition control, magnificent white balance for the majority of light sources, friendly user interface, very nice possibilities for darkened places - it attracts much attention at once. But despite these many pluses, manufacturer says that about two test models would be put out before mass production.

Specially for this cam Olympus presents a number of optical accessories that can greatly change possibilities of standard lens.

Images are written on SmartMedia or CompactFlash Type II. 32 MBytes SmartMedia card is included. Camera has a 32 MBytes buffer for quick shot savings. Connects to computer via USB.

The price of novelty would be not more than $1999 (declared by manufacturer).

And now from elite models to market for the masses.
Middleweight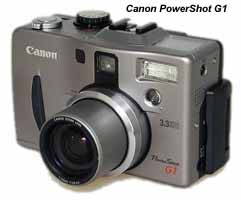 3.34 megapixel digital camera with 3X optical zoom F:2, 34-102 mm (in 35 mm equivalent). Frame size - 2048x1536 in TIFF/JPEG format. Full resolution frame saving time - less than 2 seconds. Exposure - from 8 to 1/1000 seconds., exposition - 50, 100, 200 and 400, 30-bit color, automatic shooting with exposure and aperture priorities, 7 AE programs. As declared by experts this cam can really become a "third" for every professional, because it combines high image quality, variety of manual settings and very fast work rates. G1 also supports video recording in QVGA format (320x240 pixels) with sound, 15 fps rate, 30 seconds in length.


Cam uses CompactFlash Type II. Connects to computer via USB, COM.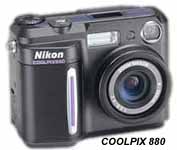 A new 3.34 megapixel cam is announced (image size 2048x1536 pixels). It can suit an amateurs as well as profies. Camera has new 2.5X Zoom-Nikkor lens with 35-98 mm focus in 35 mm equivalent, 4X digital zoom and Advanced Digital Image Quality Control. Besides, COOLPIX 880 has 11 programmed modes, 256-segment matrix gauge, automatic matrix white balance, 5-zone autofocusing. Macroshooting is possible from 4 cm distance. Preview mode allows to watch the picture on LCD monitor while shooting. Supports video recording.

Data is written on 8 MBytes Lexar Media™ CompactFlash™ Card. Connects to computer via USB, COM.
A novelty from Fujifilm - FinePix 4900Z.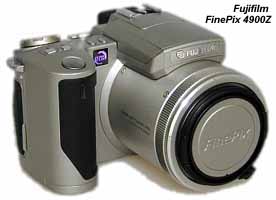 This camera is much lighter and smaller than you could expect. It has 6X optical zoom as well as number of manual settings that would suit a professional user. It also has good design, magnificent ergonomics and work rate. But unlike Olympus C-2100 UltraZoom with 10X "stabilized" zoom FinePix 4900 Zoom doesn't have an additional ring for mechanical manual focusing, but realizes "pseudo-manual" focusing in electronic way, enlarging the center of frame for better sharpness. And what about image quality? "Quick" aspherical Fujinon optics (F:2,8 - F:11) with wide 35-210 mm zoom in 35 mm equivalent. Macroshooting with lens zoom of 35-80 mm in 35 mm equivalent on 10-80 cm distances. 2.4 megapixel matrix with sensivity of ISO 125, 200, 400, 800 and improved signal/noise rate. Exposures - from 3 to 1/1000 secs. Shooting rate - up to 5 frames with 0.2 sec for each. In addition - a possibility to play and record AVI video with sound.

Data is written on 3.3v SmartMedia flash cards (2 MBytes - 64 MBytes). Connects to computer via USB.

Recommended market price - $999.
FujiFilm FinePix 4700 ZOOM - Little Big Interpolation Giant.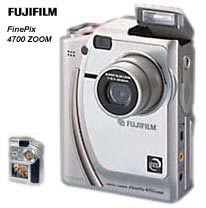 2.4 megapixel FinePix 4700 ZOOM digital camera has a remarkably high image quality that can e interpolated up to 2400 x 1800 pixels (4,3 megapixels). Has a very compact 3X optical Super EBC Fujinon zoom only 26 mm in width with center resolution up to 320 lines/mm. Camera has a high sensivity - ISO 200, 400, 800. Frame interval - 1 second. Serial (rapid) shooting - up to 3 frames 0.2, second for each. 80 seconds of video with sound (10 fps, 320x240 resolution).
Data is written on SmartMedia card. Connects to computer via USB.
What do you prefer: quality or quantity? Choose LEICA DIGILUX 4.3 and don't think about the rest.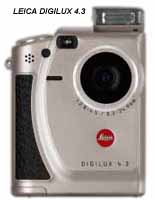 2.4 megapixel camera with a super CCD system that provides 4.3 megapixel interpolated image (2400 x 1800). Aspherical optics with 3X 36-108 mm (F:2,8-4,8) zoom. Very fast working 2" TFT LCD monitor. NTSC/PAL video out. Sensitivity - ISO 200, 400, 800.
Data is written on SmartMedia (3.3V/2-64 MBytes). Connects to computer via USB.

Notice that LEICA DIGILUX 4.3 and FujiFilm FinePix 4700 are very much alike.
New Ricoh RDC-i700. What's that? A digital camera, PC or a mini-office?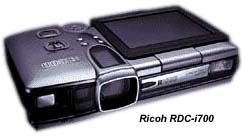 A novelty from Ricoh - 3.34 megapixel Ricoh RDC-i700 digital camera has a number of unique possibilities: network data transfers and HTML programming. But there's a strict limit to filesize - not more than 300 KBytes. Camera has magnificent optics and correctly draws all smallest details, text is written very clear, like on a big high-quality image. Ricoh RDC-i700 has 3X 35-105 mm optical zoom and macroshooting possibility from the distance of 1 cm, and special "Text" function - monochrome image of improved quality for copying text documents. Video and audio commentaries to photos recording possibilities. Camera is WWW oriented so it can send pictures via e-mail, transfer generated HTML files via FTP, browse images and text via HTTP, transfer files directly to the remote computer and send faxes. Hand input with the Stylus Pen is also possible. Cam has a software for quick generating of HTML documents based on received images.


Has one slot for PC card for mobile phone and modem, network cards, etc. and one slot for Compact Flash card Type II.
Sanyo announces a new digital IDC-1000Z iD photo camera.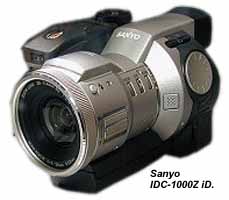 Shown on CeBIT-2000 first iD digital camera from Sanyo has already come a long way to a world market. 1.5 megapixel cam has maximum resolution of 1360x1024 pixels. It has 3X F:2,4-4,4, 38-114 mm zoom in 35 mm equivalent, built-in neutral filter and autofocus with macroshooting possibility (3 cm distance). Exposures - 16 - 1/2000 secs, apertures from F:2,4 to F:14,7 (without filter). Shooting sensitivity - ISO 100, 200 and 400. Shooting rate with maximum resolution - 7.5 fps. This camera is one of the few capable of recording video in full VGA format (640x480 pixels). Video is recorded in Quicktime format 15/30 fps for 16/8 minutes (written on iD photo disk). Sound is also recorded.
Data is written on 730 MBytes iD-Photo disk. Connects to computer via USB, IEEE 1394.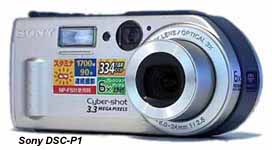 New 3.34 megapixel miniature camera will suit "advanced" users of "Press'n'Shoot" scheme. 3X optical 39-117 mm zoom in 35 mm equivalent and 6X digital zoom - it's more than all others can handle. Modern design, friendly menu and easy to use.

Data are written on Memory Stick (8 MBytes, 16 MBytes, 32 MBytes, 64 MBytes). Connects to computer via USB.

Is expected in October for $800.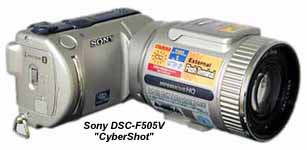 A new Sony DSC-F505V CyberShot camera looks much alike it's "original" - DSC-F505. But only from outside. Internal parts of a new camera greatly differ from old. F505V is a 3.3 megapixel camera that however uses only a part of its capabilities forming 2.6 megapixel image (1856 x 1392), but it can interpolate a frame to JPEG - 2240 x 1680 pixels. Camera has 5X Carl Zeiss optics F:2.8 - 3.3, 38-190 mm (35 mm equivalent) and 2X digital zoom. Quick autofocus from 2 cm to infinity. Function remained from the previous model - 6 AE programs, exposure and aperture priority, but sensivity is set in candle equivalent from 2 to 16000 candles and ISO equivalents are not used. Capable of video recording - 15 seconds, 320x240.

Data is written on Memory Stick (8 MBytes, 16 MBytes, 32 MBytes, 64 MBytes). 8 MBytes card is included. Connects to computer via USB.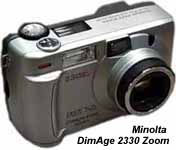 New digital 2.31 megapixel camera - Minolta Megapixel DimAge 2330 Zoom is an autofocusing digital camera with 3X zoom that combines high picture quality and automatics, allowing user to get the best results from an easy interface.

Data is written on CompactFlash card Type. Connects to computer via USB.

Expected price - $499.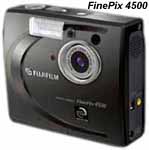 Fujifilm announced new supercompact (86x71x31 mm) 2.4 megapixel digital camera that gives an interpolated image in 2400 x 1800 resolution. It has an optical viewfinder and small LCD monitor that however provides good image quality including macroshooting from 6 cm distance. Supports 320x240 AVI video recording.
Data is written on 8 MBytes SmartMedia Card.
Battle of the Giants - Silicon Film's EFS-1 versus Leaf C-MOST.
An "electronic" film sensation.

Do you want to enter the world of digital photography with your "undigital" camera? Is it a fiction or a fact?! Silicon Film's EFS-1 system will turn your 35 mm SLR camera into a high quality digital one. Not much to wait! on 21st of January Silicon Film Technologies Inc. with Eastman Kodak Co. announced unique "electronic" film - Electronic Film System (EFS-1). This revolutionary system has a mini-processor in small case that resembles usual 35 mm film case and in the "tail" - a CMOS sensor situated in a focal plane of camera. It looks very easy - if you want a digital picture instead of usual just place (e)-film ™ cartridge instead of 35 mm film case and shoot your pics.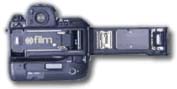 After this (e)-film ™ cartridge is placed in a (e)-port ™ adapter for transferring images to PC or Mac. If you don't have a computer nearby you can transfer your images to (e)-box ™ with the help of (e)-port ™, clear your (e)-film ™ cartridge and continue shooting. Now as declared by manufacturer Silicon Film's EFS-1 is in final testing and would be out for masses by the end of '2000. Soon the official Silicon Film site will begin taking orders for the first serie of this product with the fixed shipping date. First shipping of EFS-1 serie would be for Canon EOS 1N, Canon EOS A2/5; Nikon F-5, Nikon N-90/F90, Nikon F-3 cameras.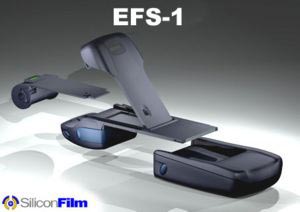 Other models compatible with EFS-1 would be announced additionally on the official Silicon Film site. EFS-1 features:
No modifications needed
More than 300 digital images with one battery charge
1.3 megapixel CMOS sensor, 1280x1024 frame size, 36-bit color
EFS-1 can have 24 uncompressed images
JPEG, BMP, TIFF formats
ISO 10 sensivity
Expected price of $800.
While looking through EFS-1 announce you should understand that the first try to produce such a thing took place in '1998 when Imagek company declared creation of this "miracle" compatible with every(!) 35 mm camera as well as future markets expansions. Time passed, advertising eloquence vanished, Imagek renamed itself into Silicon Film Technologies Inc., 5 professional cameras took place of previous ambitions. Would it be a "second coming" or just a bluff? We'll see.
"To be or not to be? That is the question..." 6.6 CMOS sensor with the size of 35 mm frame?!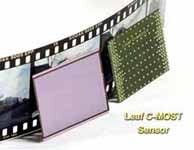 On 10th of January Scitex company announced new Leaf C-MOST sensor that is sized like 35 mm film frame, has an ultra-thin 6.6 megabyte CMOS sensor and can be inserted into a focal plane of standard 35 mm camera. On 21st of September Leaf Products (CreoScitex department) and FillFactory made a strategical alliance to finish working on a unique CMOS sensor that is aimed at the world high-end digital markets expansions. As declared, the developing of new CMOS sensor is in the final phase now, and negotiations are being held with world's 35 mm camera brands about developing new accessories with Leaf C-MOST technology for their products. The release date is set to the end of '2000. The "revolution" is at hand.
Some words about photography supporting technologies.

Iomega begins production of new digital photocenter.Iomega corporation announced its last product - Projectional Digital photocenter that with the help of built-in npict10ureIQ software allows to manage digital photos without a computer. The device allows to transfer images from CF and SM memory cards to Zip® 100/250 MBytes. There's a possibility of plugging photocenter to a TV with an RCA or S-Video cable, and to computer - via USB. Expected price - $299.

Toshiba (Japan) announced new 128 MBytes SmartMedia card that is to be on markets by the end of September'2000, but as there are no cameras for this cards there will be another "upgrade".

Competitors haven't waited for too long and Simple Technology announced shippings of CompactFlash cards with the biggest 512 MBytes capacity. There are 8 of 64 MBytes chips on the card. The price is not small as well - $1559. We haven't even seen this card on photos, but still you can look at 488 MBytes card. So CompactFlash cameras allow to store much more images, and even more with Type II, concerning the fact that IBM Microdrive capacity reached 1 GBytes.

Retouching photos is easy with new WACOM tablets. And we can tell their users that there are new drivers that allow to use them with dual-monitor configuration.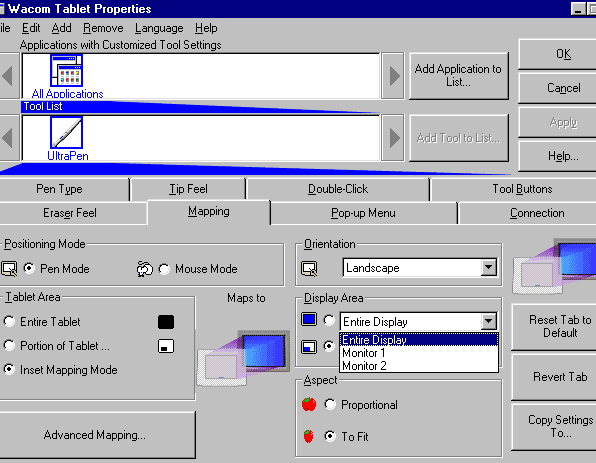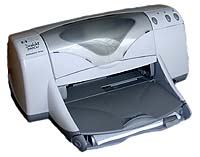 Photos are to be printed. Hewlett Packard presents new Deskjet 990 cxi printer. We included this review in our Digital Photo Digest because this product uses optical paper type recognition technology that makes it similar to digital cameras in our opinion. A sensor compares dispersed light and light reflected from the paper and acknowledges paper type. Of course it's not paper analysys but simple choosing from a fixed list of types, and still there's a hope that there would be fewer spoiled paper sheets that were inserted wrong side up.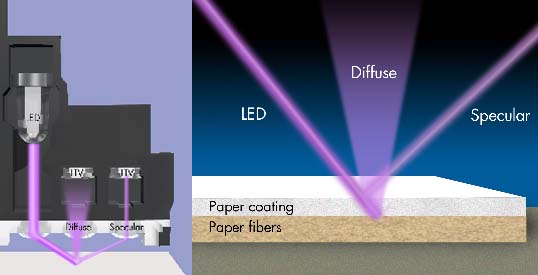 Write a comment below. No registration needed!